Rent a seven seater car in Big Sky
Take your family out for some wide open spaces and ski Big Sky mountain resort in Montana. Though it has grown considerably in the last 10 years, Big Sky still remains much a well kept secret, leaving more space and faster lifts for you and your family during your ski vacation. The lodging in the area isn't as commercial as some resorts, with like houses and condos with a family friendly feel. Reserve a car hire with seven seats in Big Sky for your Montana ski vacation.
Big Sky resort is how the Rocky Mountains were meant to be: rugged and wild. Well, not too wild. The resort features a huge mountain with lots of area to explore, including trails for beginners as well as more than enough for intermediate and expert skiers and snowboarders. The resort also has several good terrain parks. Here the lifts are never crowded.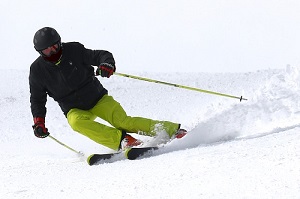 Reserve a 7 seater car hire in Big Sky to explore both the Mountain Village and the Meadow Village, which is just a 10 minute car ride a few thousand vertical feet below the Mountain. Near the Meadow Village is a stunning 30 foot waterfall, Ousel Falls that freezes in the winter. Check out the water running beneath the ice on the far right side - too cool! The trail to the falls is well maintained and safe for families.
The area around Big Sky Ski Resort also has some excellent places to eat. Visit the Cinnamon Lodge for an evening of Mexican food and margaritas after a long day on the slopes. They also serve good steaks and seafood for the picky little eaters in your group. Sit down to a family dinner at Lone Mountain Ranch, where you can get Montana grass fed beef or delicious vegetarian entrees.