Hire a Peugeot Expert Tepee nine seater rental car
The Peugeot Expert Tepee has both a long and a short version. They both offer nine seats but the long version has more space for luggage. Its hugely spacious interior and air conditioning mean that everyone can travel in comfort unlike some of the smaller mpvs.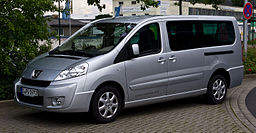 The Expert Tepee is based on the Expert van so it does have a boxy shape but the flat floor, choice of lengths and the flexible seating system provide so much versatility. The sliding doors on either side also make the unloading and loading of passengers and luggage a simple process.
This practical and efficient car is a great choice for a hire car if you are transporting a large group of people or have a lot of baggage or equipment to carry.
Photo courtesy of M93 at Wikimedia Commons