Hire a Citroen Berlingo Multispace seven seater rental car.
One of the biggest advantages to the Citroen Berlingo Multispace is its airy feel. This is down to the copious windows and the raised seats including in the driving position which also mean this car is great for negotiating city centres as well as for enjoying the views. Parking is helped not just by the windows but also by the ample sized mirrors.
The flexibility of the seating arrangements mean that this versatile car can be transformed from a seven seater to a 5 seater with oodles of luggage space. In the older versions, the rear seats fold down but in the newer ones, they can be removed. This would be an ideal vehicle if you need to stow a wheelchair or a large pram. The sliding rear doors also make stowing luggage and people a breeze.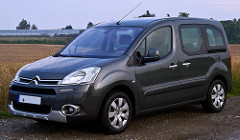 The hard wearing interior and mechanically robust driving make this a very reliable car. Front air bags are standard for extra safety. So whether you are transporting 5 people on a holiday with lots of luggage or camping equipment, or the family for a weekend jaunt, the Citroen Berlingo Multispace could certainly be the car for you.
Photo courtesy of M93 'Dein Nordrhein-Westfalen' at Flickr.com