Rent a Volkswagen Caddy seven seater hire car
The versatile Volkswagen Caddy can accommodate up to seven adults plus luggage, without the hulk and bulk of a van. With easy access to the passenger compartment through two sliding doors and the ability to adapt interior space quickly and easily, the Volkswagen Caddy provides the comfort, space and practicality you and your group may need on your holiday. The latest version is the Maxi Life which has some additional options available.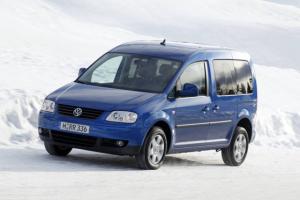 Safety design is a key point with the Caddy keeping you and your loved ones secure wherever you may be travelling. Anti-lock Braking System, Traction Control, Engine Drag Torque Control, airbags and daytime running lights ensure your passengers are protected throughout their journey.
Along with its ample seating for 7 adults, the Volkswagen Caddy houses a luggage capacity of up to 620 mm in the seven seat format! It handles even bulky luggage and equipment effortlessly. In addition, the third seats are a double folding bench and the second row seats fold as well, creating the space you need to transport all the weird and wonderful things you might need to carry around on holiday. Don't feel like you have to leave anything behind, let the kids bring their much needed entertainment along for the ride, and enjoy space for your friends or family when you book a Volkswagen Caddy 7 seater car rental in your next destination.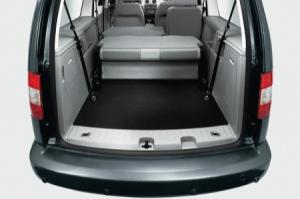 The Volkswagen Caddy provides storage, space and versatility and because the dashboard is laid out like Volkswagen cars, it will seem very familiar to some drivers.