Citroen Dispatch Combi
The Citroen Dispatch combi can have between 6 and 9 seats depending on your requirements. With its ample windows it has great visibility for both passengers and driver alike. This makes parking easier and enables everybody to soak in the surrounding scenery.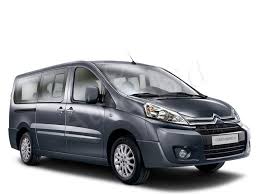 The seating arrangements can be transformed to allow you to fit in either a greater number of people or to stow larger baggage. The seats are also progressively higher as they go back meaning that all passengers are able to see the road ahead. Perfect for children who like to see where they are going.
The Dispatch combi also has many technological features and a superb driving feel. You and your group can travel in style and comfort.