Hire a Seat Alhambra seven seater rental car
The Seat Alhambra is practical seven seater which is smooth to drive with powerful but light steering. It holds the road well making it an ideal vehicle should you be driving through city streets or winding countryside roads.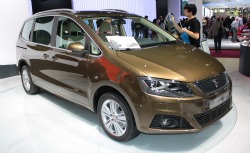 The sliding doors are perfect when you have a full load of passengers of luggage to get in and out of the car. The quick and easy seat-folding system means that you can organise the seats to best suit your needs. With all the seats folded it gives a very large flat loading area. The automatic boot opening on the newer models also helps with loading.
Despite its size, the Alhambra doesn't feel big and the high driver seating position and good visibility make it an easy car to park. The rear blinds are of benefit to those with children who want to be able to sleep in the car on sunny days!
Image courtesy of El monty at Wikimedia Commons