Hire a Mitsubishi Outlander seven seater rental car
The Outlander is a seven seater but the rearmost seats may be a tight squeeze for adults on a long journey. The four wheel drive allows for a fantastic driving experience on and off road. The seats all fold down which means that you can arrange the car space to suit your requirements.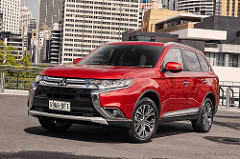 With the back row of seats folded down there is a mammoth 1,022 litres of storage space. With them in use the storage is 591 litres. For the driver there is adjustable seat positioning and the steering wheel height can also be altered to allow for comfortable driving.
The new version of the Mitsubishi Outlander has scored a five star NCAP safety rating. Mitsubishi have a high reliability record and that includes the Outlander.
Photo courtesy of The NRMA at Flickr.com