BMW 2 Series Gran Tourer
The Gran Tourer is BMW's first 7 seater mpv. As you might expect from BMW it is stylish and functional at the same time. It has a large luggage capacity as well as plenty of storage compartments within the car.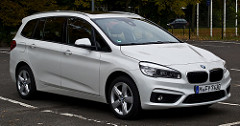 Like the Ford S-Max the luggage space in the rear can be transformed into the 6th and 7th seats. This still allows for 145 litres of luggage. The foldable middle seat means more flexibility when it comes to stowing your items. One of the advantages to the Gran Tourer is that is has been approved to carry three child seats across the middle row. The two outer seats are also fitted with ISOFIX child safety seat fasteners.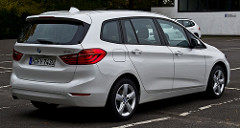 If you are lucky enough to hire a four wheel drive version, this combined with the Dynamic Stability Control gives excellent stability and traction. The large doors and tailgate give easy access when loading or unloading children and luggage.
Photos courtesy of M93: "Dein Nordrhein- Westfalen" at Flickr.com