Hire a Nissan X Trail seven seater rental car
The Nissan X Trail was updated in 2014. There is a 4x4 7 seater version which is capable of tackling all types of terrain should your holiday take you off the beaten track. It is more spacious and comfortable than ever with doors that open incredibly wide making loading and unloading the car much more straightforward.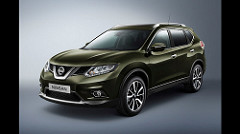 These cars come with many safety features including six airbags, ABS and Nissan Chassis Control which helps to stabilise the car when the going gets rough. There are also tyre pressure monitors and a speed limiter - handy when you are on unfamiliar roads.
This is a simple car to drive. The tight turning circle and large mirrors help with parking so even though this is a large car, it is still capable of coping with city streets too. The seats all slide backwards and forwards allowing you to decide where you need the room the most - be it luggage space or legroom.
Photo courtesy of Amila Tennakoon at Flickr.com