Rent a seven seater car in Grand Targhee
Enjoy your winter vacation with your family at the beautiful Grand Targhee Ski Resort in the Caribou-Targhee National Forest of Wyoming. The resort features fantastic family lodging, a spa, retail stores, and conference facilities. Grand Targhee offers an abundance of exciting trails perfect for a family of ski enthusiasts. Reserve a car hire with seven seats in Grand Targhee for your family ski vacation.
The ski at Grand Targhee is rated 85% Difficult and 15% Advanced, making for tons of fun for avid skiers. However, they offer ski and snowboard school for beginners and children as young as 4 years old. They also have Nordic Skiing trails, snowshoeing, snowcat adventures, and organized activities including sleigh ride dinners and dogsled tours. There is no end to the family fun you can have in the abundant "champagne power" snow found here that put Grand Targhee on the map.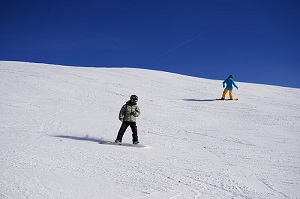 Grand Targhee is easy to reach by 7 seater car hire with the whole family. Located in western Wyoming, it is just 24 miles west of Jackson Hole, Wyoming and 87 miles northeast of Idaho Falls, Idaho. With the freedom of your own car hire you and your family can also travel the town around the resort.
Among the many fantastic reasons to visit Grand Targhee are its impressive list of amenities. You can enjoy their full service Spa and Fitness Center, including an outdoor heated pool and two hot tubs. Parents can have a worry-free day knowing the little ones are safe in the Kids Club or daycare services. Evenings will be full of family fun at their Fine-dining restaurant, Bistro, and full-service bar with nightly entertainment.