Hire a Vauxhall Zafira seven seater rental car
The Vauxhall Zafira is one of the smaller seven seater cars. With only the five seats in use it provides ample boot space but with all seven seats occupied, luggage space is more limited. For a large car it is surprisingly sprightly coping well with motorway driving as well as country lanes.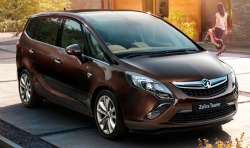 With good all-round visibility and a tight turning circle it is quite an easy car to park - perfect for those city centre car parks! For the driver there is a high seating position and good handling. The seats can be folded down as required.
The new Tourer version of the Zafira comes with airbags, air conditioning and parking sensors as standard. There are also cruise control and electric windows.
Photo courtesy of Vauxhall