Hire a Toyota Verso estate seven seater rental car
The Toyota Verso is comfortable and easy to drive. Despite its size it has plenty of pull when overtaking or negotiating hills. This practical and compact mpv has great visibility for when you are parking the car or just when you are cruising through beautiful scenery on your holiday.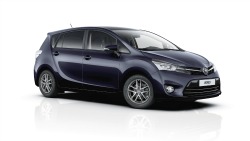 Although this is a seven seater, the rearmost seats do not have much leg room so may be more suitable for children if you are on a long journey. The seats can all be folded flat individually so you can tailor the seating arrangements to your requirements. The tight turning circle and light steering make it an easy car to park. Boot space is limited with the third row of seats in use but with them folded it gives ample room for luggage.
Image courtesy of Toyota.