Rent a Kia Sedona seven seater car
The Kia Sedona is still available in the US but in the UK and Europe it has been replaced by the Kia Sorento or the smaller Kia Carens. If you are looking for the safest and most reliable multi passenger vehicle to transport your most precious cargo around in a foreign city look no further than the Kia Sedona. It features six airbags, a back-up sensor, and a five-star NHTSA crash test rating.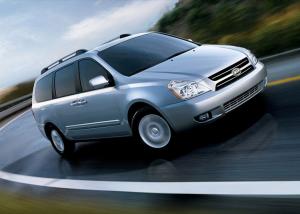 The Sedona offers driving and riding in comfort with 8-way power adjustable seats. All four front-most seats provide excellent back and thigh support. The two middle seats can be removed from the Sedona very easily, and at the pull of a strap the rear seat folds into the floor leaving ample room for all your holiday equipment and luggage. Therefore with a Kia Sedona 7 seater car rental you can take up to 7 people or less people with more luggage!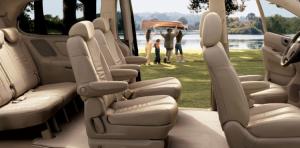 Drivers love the Kia Sedona for its spacious driving position, versatile seat arrangements and great driving control. The Sedona handles the road with surprising agility, perfect for navigating your group safely on tight and unfamiliar city streets. Enjoy exploring through driving by reserving a Kia Sedona.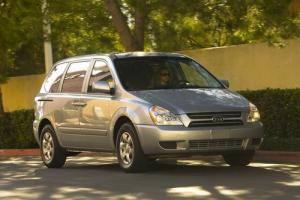 The Kia Sedona has the capacity to get your group of up to 7 adults around safely and comfortably. Its interior combines economy-class design with business-class space. Minimize complaints and keep passengers cosy with three climate zones, each with its own control panel and roof-mounted vents, creating the right temperature no matter where your next adventure destination may be. So whether you are travelling to Alaska or California, you can ensure the optimum temperature within your car.