Hire a Peugeot 5008 seven seater rental car
The Peugeot 5008 has a versatile seat system which means that the seats can be arranged to suit your needs. Much like the Ford S-Max, the rearmost seats may be uncomfortable for adults on a long journey but are perfectly good for children.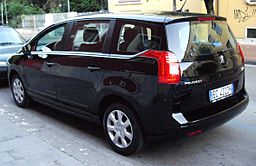 Its raised driving position and broad windscreen give the driver a panoramic view of the road. It has a good quality interior and spacious cabin. The boot space is huge when not using the rear two seats. These can be folded flat into the floor.
For an MPV the Peugeot 5008 is quite nimble and if you are lucky enough to hire one with the sunroof then your passengers will have wonderful views as you travel.