Hire a Ford Grand C-Max seven seater rental car
The Ford Grand C-Max is one of the newest small 7 seater cars available therefore many will come with additional comfort features such as air conditioning, electric front windows and lumbar seat adjustment for the driver.
Safety elements include ISOFIX child safety seat attachments, curtain airbags on the first and second rows and anti-lock braking. The traction control and hill start assist features all help to make it an easier car to drive.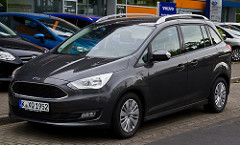 When not using the rearmost seats there is a large luggage compartment and the rear sliding doors gives easy access for passengers and unloading baggage.
Photo courtesy of M93: 'Dein Nordrhein-Westfalen' at Flickr.com