Rent a Toyota Previa seven seater hire car
The Toyota Previa is no longer distributed in the UK and the Ford Galaxy and VW Sharan are more popular in continental Europe. The Previa is known as the Estima in Japan, the Canarado in the Asia Pacific region and the Tarago in Australia. The equivalent model in the US is the Sienna.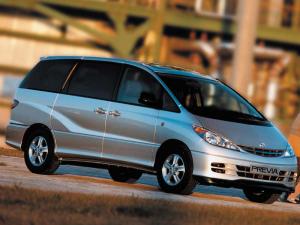 The Toyota Previa was one of the first people carriers on the market, and over the years each updated edition has maintained a stronghold as a family or group holiday hire favourite.The Toyota Previa offers comfort, safety and drivability.
With more than enough room for up to 8 people, the Toyota Previa features two rear benches that slide out and fold to give more area for luggage. The 7 seater Previa option features swivelling second-row captain's chairs. As one of the largest MPVs available the Previa boasts ample storage places for all your troop's necessities, and plenty of room for the luggage you will need on your vacation. Make sure you have the space to take everyone as well as all your travel essentials by reserving a Toyota Previa rental car in your next adventure destination.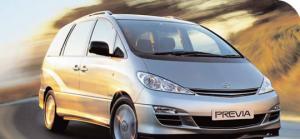 However, space isn't the only benefit of a 7 or 8 seater Previa; its equipment levels are impressive with antilock braking, double airbags, air conditioning, a double sunroof and even cruise control, making those long drives around the country easier on the driver. Built on a car chassis with the weight of the engine ingeniously positioned at an angle beneath the front seats, this people mover handles well, just like a car!