Hire a Mazda 5 seven seater car
The Mazda 5 has a unique seat layout for a 7 seater car. The middle seat of the second row can either be used as a seat, as an armrest with cupholders or folded completely away to provide more room between the seats. The advantage to the Mazda 5 is that the rearmost seats have enough legroom for adults.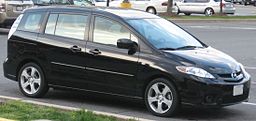 The rear sliding doors provide easy access and loading. They can also be very handy when you have parked in a city centre car park and want to avoid children banging other cars with a door. Parking is also very easy as the Mazda is not particularly wide for an MPV. The newer models have ISOFIX attachments for child car seats.
This a very smooth car with good grip for its size. It is also very quiet for passengers due to its excellent aerodynamics and insulation. The shock absorbing crumple zones and up to 6 airbags on the more recent editions also add to its safety.