Hire a  seven seater rental car
The 7-seater Grandis with its Volkwagen-sourced diesel engine is a pleasure to drive. It is well-equipped as standard. The Grandis is no longer produced. Mitsubishi now offers the Outlander diesel.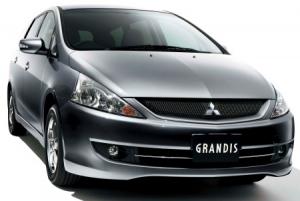 The Grandis features an innovative "Hide & Seat" seating configuration, making your life easier with a third row of seats with two individual chairs that both fold flat into the floor within seconds. You won't waste time trying to remove or install car seats when juggling passenger numbers and luggage space. The two third row seats also feature adjustable backrests for additional comfort and are reversible, allowing both seats to be flipped back for open air relaxing under the tailgate when stationary.
When driving in unsure situations or weather conditions you can feel secure in the Grandis, thoughtfully fitted with Mitsubishi Active Stability Control and Mitsubishi Active Traction Control, this car loves to hug the road
The Grandis suspension is built to provide a smooth ride for the passengers and for a easy driving experience. This MPV is built with nothing in the way of you, your family, and all your stuff getting from point A to point B whilst enjoying your holiday. Reserve your Mitsubishi Grandis rental car in advance online.