Nissan Serena
The Nissan Serena is a very spacious 8 seater multi-passenger van. The roomy interior allows for greater comfort for all the passengers as well as a plentiful supply of storage space for luggage.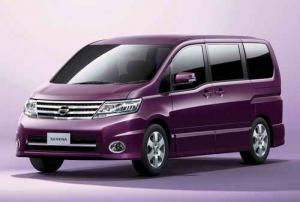 The sliding doors are a popular feature especially when parking in cramped town centre car parks. The high ceiling inside and all round windows give the Serena an airy feel.
The seating can be arranged to suit your needs so whether you are travelling with your family or on a business excursion the Nissan Serena can be the ideal vehicle to get you around.