Rent a Ford Galaxy tdi seven seater hire car
The Ford Galaxy seven seater tops the market for comfortable and efficient multi passenger vehicles. If your definition of luxury is space, then the Ford Galaxy is definitely a car that will make you comfortable. With a capacity to carry up to 7 passengers it makes the perfect choice for a car hire on your next family vacation, out of town business trip, or any travel where you need to transport up to 7 adults.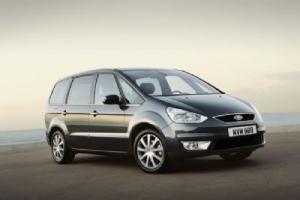 The flexible seating arrangement of the Ford Galaxy means that if you are visiting locations that require equipment, or plan to travel around from hotel to hotel with your group, you can fold the rear seats away for some extra space in the interior. With the newest models this can be done at the touch of a button. Whatever your travel plans, a 7 seater Ford Galaxy rental car can help you get to where you want to go with all your friends and gear in tow. Features include air conditioning, remote central locking and immobilizer, airbags, and much more. Transporting a group, even if it's just for business, doesn't have to feel like work. There is plenty of legroom unlike some smaller MPVs. With safety features and interior comfort to back it up, the Ford Galaxy is a pleasure to handle on the road. Vital if you are likely to be doing a lot of driving around or touring whilst on your holiday.
Whether you are travelling to Spain, England, Italy, France, or the United States, a Ford Galaxy 7 seater car hire can provide the transportation you need for your family or group.